The Danger of Facebook Ads
Traps, Snares and Pitfalls You Should Know Before Starting a Facebook Ad Campaign
This post is all about the issues and pitfalls I encountered with Facebook advertising and since Facebook's ad creation guide is so simple I'll keep the detail of the precess very minimal. Late in January we decided to start a Facebook advertising campaign for the Ask Adam League. What followed was a very simple and easy to understand process yet an eye opening one at that.
Creating the 'Creative'
Step 1. Design Your Ad. Facebook has a way of making everything uniform including the 'creative' of the ad that you are developing. And I find it humorous that the act of any creative process of the ad development is taken away from the user and is almost completely automated. Anyhow, the process of creating the ad is presented below in brief, only for those who are interested in the criteria that I put in the ad.
Here's the design of the ad and you probably have seen a billion of ads just like this, because they are all generally the same.
Problems:
URL Display Problems – Note that Facebook will NOT allow you to input a URL within the "Body" text field (this is automatically put in from the "URL" field and will be displayed just below your ad title). Worse than that, you wont even know if your URL will be put into your ad especially if you are a first time user since the preview field does not generate the URL in the ad.
Certain Text is a No-No – Too many capitalizations in your text are a red flag as well. Our first ad run was with the tag "Think for Yourself, Listen to Adam". Facebook had a minor freak out and stated that the ad might be rejected due to too many capitalized letters. The fact that these 4 capitalized letters would even be mentioned as an issue shows the extent of the control that Facebook will have over your ad (I ended up not having a problem with the letters but was still concerned about future ads).
No Text Formatting – Facebook does not allow you to format the text in the body. What I mean by this is that you cannot make indents in the text, make double-spaces or even choose when there is a line break. All of this is auto generated and you have absolutely zero control. This means that tags like "Think For Yourself, Ask Adam" can lend themselves to some funky formatting and not look the way you want it.
Step 2. Targeting. I didn't have an issue with designing how I wanted my ad to be targeted. I found the interface and directions to be clear and very nice actually. Here is where you choose the location of your targeted ads and other criteria like demographics and interests. We went with 20 to 30 year old males in Austin TX who are interested in video games.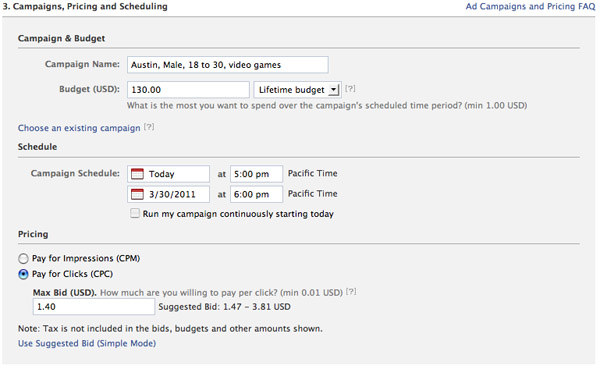 Leaguers). This didn't happen for those who clicked the ad and could be for several reasons (i.e. they didn't like what we had to offer, they didn't' know what we had to offer, the 30 minute podcast running times may scared them off, we reached the wrong potential audience, etc.)
This summary isn't meant to tell people if they should or should not use Facebook to advertise their products, service, brand or cause, but rather to show you my experience as a first time Facebook advertiser and the potential problems I saw with it. I can write all day on the speculations as to what Facebook's seemingly deceitful rising suggested bid rate means, or why they overly control the ad creative on the site. But I'll leave those conspiracy theories to others.
For the beginning Facebook advertiser, they will find the ad platform to be simple, easy to use and fun. And that's why it is so dangerous. One can waste a lot of money if they don't know what they are doing. Admiral Ackbar might not be completely correct because Facebook Ads 'can' be a trap.