Quick Thought
As of July 7, 2011, Facebook changed their chat popup to include a seemingly random group of friends rather than friends who are available to chat with in real time. This seems illogical. I used the Facebook Chat popup because it was extremely useful. One of the first things I would do when opening up Facebook would be to see who is online that I might want to chat with. A green dot means that they are currently online and a moon meant that they were idle. This worked out perfectly because it was akin to someone hanging out at a social space that may or may not want to engage in a conversation if prompted.
Now we are left with a random list of friends with some showing availability and most not at all. And this 'sidebar is atrocious. First it appears exactly like the original chat popup.
And now it is just some amorphous field hogging up space of random friend.
And I can't easily hide this sidebar. It takes two clicks to get rid of it.
Why would I want to see a list of random friends? If I wanted to see who I was friends list then I would click "Friends" on my profile. This seems like absolute nonsense to me. But then it hit me; could this be Facebook's way of trying to get it's users to contact friends that they haven't conversed with in a long time? Is Facebook trying to increase the connectedness between users who may not have connected via chat otherwise? Is this a strange counter move against Google+?
I have the feeling that this is a Facebook fail.
Update 7/11/2011
I found it funny that so many people were visiting this post through some search keywords that would suggest they weren't happy with the Facebook sidebar and that they wanted to turn it off. Here's a list of the top 15 keywords of the day. In all, I found 14 visitors through Google search out of 48 came to this post using keywords that denoted negativity toward the sidebar, hiding it, or getting the old chat popup back. This is from a single day of visits.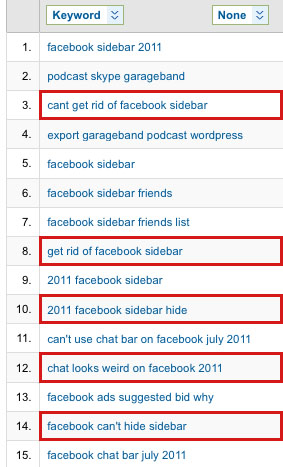 Update 7/11/2011
It looks like there's an extension for Chrome users to disable the Facebook Chat Sidebar. And it's called the FB Chat Sidebar Disabler! Write back if you tried this out. I'm a Chrome purist, not a single Extension. Sorry…